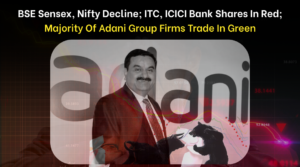 In a choreography of financial ebbs and flows, the BSE Sensex and Nifty 50 embarked on a complex waltz on Thursday morning, a symphony of decline underscored by the weight of losses sustained by ITC, ICICI Bank, and other titans of the market. 
Sentiments in Statuesque: Sensex and Nifty Sway in Synchronization 
As the sun cast its first rays on the market horizon, the Sensex stood sentinel, down by 100 points or 0.16%, adopting a posture of somber contemplation at 54,840.25. The Nifty, its counterpart, echoed the sentiments with a synchronous dip, down by 22 points or 0.13% at 16,323.20. 
An Elegy of Losses: ITC, ICICI Bank, and Other Lamentations 
Amongst the ensemble cast of market protagonists, ITC, ICICI Bank, HDFC Bank, Infosys, and Reliance Industries took center stage as the mournful top losers on the Sensex, their valuations swathed in the shroud of decline. 
Emerald Rays of Hope: Adani Group Shines Amidst Shadows 
In this mosaic of market moods, the Adani Group cast forth emerald rays of hope. Adani Ports, Adani Green Energy, and Adani Power adorned the stage as resplendent gainers, their shares resolute amidst the tides of uncertainty. 
The Dance of Profit-Taking: A Prelude to the US Federal Reserve's Oracles 
The crescendo of market movement was orchestrated by the undertones of profit-taking, a rhapsody echoing the recent gains. In tandem, a cloak of caution draped over investors as they awaited the unveiling of the US Federal Reserve's meeting minutes, poised to reveal insights into the central bank's symphonic strategy for interest rates. 
Symphony of Uncertainties: A Melody in Flux 
As the notes of market intrigue swell, the overarching symphony is laced with interwoven melodies of uncertainties. Rising interest rates in the US echo across oceans, their resonance reaching the Indian shores. The enigma of the Chinese debt crisis casts its shadows, a reminder of the interconnectedness of global economies. The art of profit-taking, a pivotal part of market choreography, plays its tune, harmonizing with the overarching rhythm. 
Long-Term Allegro: The Grand Market Sonata 
In this intricate composition, the long-term crescendo remains a steadfast allegro, a reminder of the underlying positivity that threads through the market tapestry. While the short-term movements may whirl in the maelstrom of volatility, the steady hum of optimism remains the constant refrain, urging investors to embrace patience and remain anchored in the grand symphony of market participation. 
Flickering Factors: A Kaleidoscope of Market Influences 
A kaleidoscope of factors lends their hues to the canvas of the Indian stock market today: 
The rising interest rates in the US cast a global shadow, their impact rippling through the Indian bourse. 

The specter of the Chinese debt crisis looms large, a reminder of the market's vulnerability to external tremors. 

The act of profit-taking after recent market gains unfurls as a strategic choreography, weaving its impact into the overarching market narrative. 

The impending release of the US Federal Reserve's meeting minutes, poised to dispense insights, forms an anticipatory cloud over market sentiments.Top of Form